Scottís Birthday Outing from Gogo and Papa!
Build Ėa-Bear Workshop
---
March 29, 2006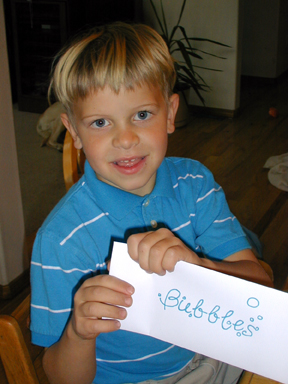 1. Scott opened his present from Gogo and Papa after breakfast this morning. Inside the box,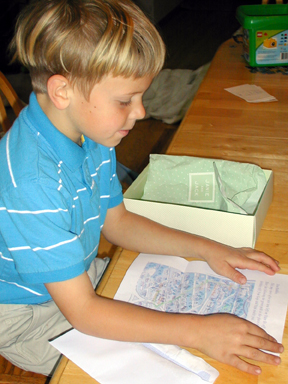 2. Bubbles read the note and map from Gogo & Papa. He couldnít figure where the car treasure hunt might lead to!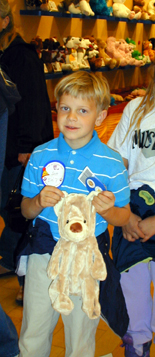 3. At the workshop, Scott chose his bear from a grand shelf of choices. His was a light brown, extra soft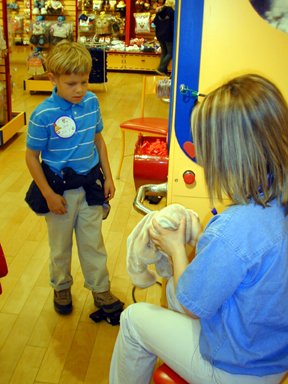 4. Next, the bear was brought to the stuffing center. Scott chose Brahmís Lullaby for music, and put it in the bearís left arm. Then he stepped on the pedal to bring stuffing from the machine into the bear, with help from Kelci.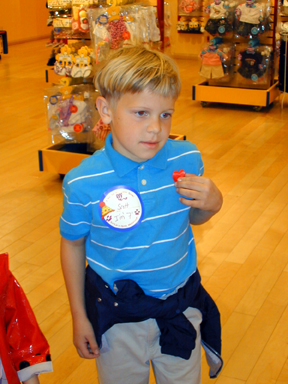 5. Kelci asked Scott to choose a heart for the bear, hold it next to his heart, rub it on his nose for luck, then kiss it before tucking it into the bear after he was done being stuffed. Then Kelci sewed up the bear and handed him to Scott!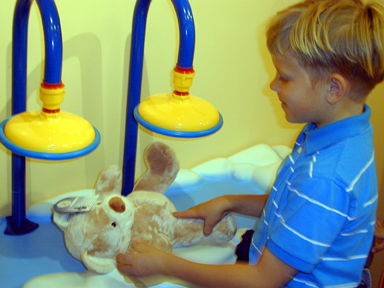 6. Scott brought his bear to the fluffing table, where he brushed and fluffed him. Then he made a birth certificate and chose a pair of shorts for his bear.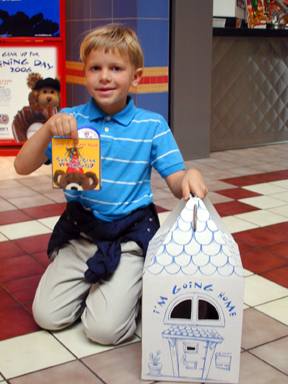 7. Scott named his bear "Teddy Bear". Teddy Bear was given a box to go home, his birth certificate, a birthday CD and a sheet of stickers. Here is Scott outside the store with his bear, ready to go home!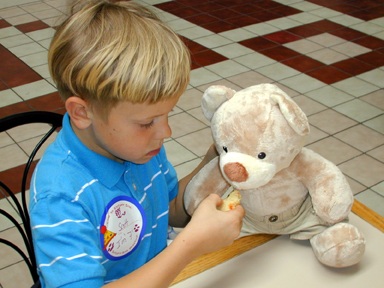 8. Scott also got a sticker to wear since it was his birthday (almost). Here he is feeding Teddy his first meal- a Mrs. Fieldís cookie! (: Yum yum. Thank you Gogo & Papa!!!
Click to return to Kabubble Gifts.