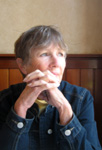 Suzy Smith


September, 2007 - What's In A Word?, Downsizing, Perspective, The Dinner Party, The German Ladies

August, 2007 - A Gentle Soul?, Young Love, Old Love, A Bad Word,

July, 2007 - Keeping The Family Together, Discovering My Sister, Seeing Things Differently, The Shower,

June, 2007 - The Evolution of the Cleaning Lady, A Serpent in my Eden, My Dad, A Funny Thing Happened On The Way To Tennis,



May, 2007 - My Mother, Baby Bird Season

April, 2007 - Stuff, Giving & Taking, The Wandering Mind, Saying I Love You is Hard To Do, Daydreams,

March, 2007- God Is In The Details, Spring Fever, Mother is the Bottom Line,



February, 2007 - Bloom Where You're Planted, Valentine's Day,



January, 2007 - New Year's Resolution, Becoming an Ancestor, Me and My Computer, I Feel Bad About My Neck,



December, 2006 - Christmas Trees, The Perfect Christmas? Get Serious! Two Days After Christmas,



November, 2006 - Letting Go Of Christmases Past

September, 2006 - Writing a Letter of Condolence, On Being a Little Sister, Nostalgia

August, 2006 - Discipline, Why Do We Cry at Weddings?, Lecturing, Legacy

July, 2006 - Nobody's Perfect, Reflections, Still Vital,



June, 2006 - Winning and Losing,

May, 2006 - My Garden, Children in the Garden, Our Place In The Scheme of Things, Soul Places, My Wrinkles Have Arrived,

April, 2006 - Praising our Grandchildren, Easter, Easter Memories, Support,

March, 2006 - Busy, Our Grandparents, Growing Old, Renaming "Senior Citizens", Our Old House Comes Down, Dr. Margaret Talks To Us About Aging, More from Dr. Margaret, Praising Our Grandchildren,

February, 2006 - Why Do Children Make Things? Grandmother Falls In Love, Grandmothers and Valentine's Day, Valentine Expectations, Grandparents Have a Life,

January, 2006 - New Year's Resolutions, How We Took the Child out of Childhood, Being Old Isn't All Bad, A Second Chance at Childhood, Childhood Continued,



December, 2005 - Christmas Isn't Over, Grand Event, Letting Go, Gifts, The Home Stretch, Christmas Celebration, How We Change.

November, 2005 - It's Over, Tennis & Family, Thanksgiving Day, Culinary Disasters, Food/Love, More Food, Food, Thanksgiving Place Cards, A Mural for This Year, Thinking About the Thanksgiving Mural, Relationships, Expectations, Soul, What's Your Name?; Identity, Mom, Girl-Boy, Soccer, Quiet Times, Clowns-Down, Soccer, Fun!, Class Reunion, Startup.